N+1 becomes ALANTRA
---
Date 26 September 2016
Type Corporate News
N+1, the financial advisory and asset management group, enters a new era with the adoption of a new global brand for the institution.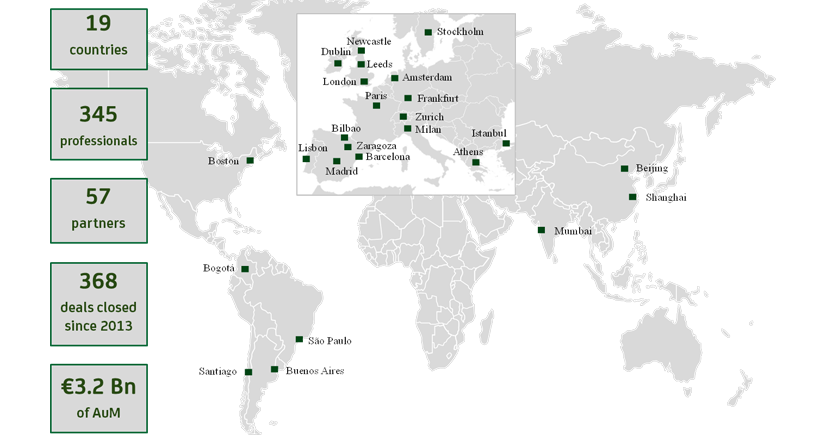 With this decision, the partners of the 19 countries and different businesses in which the group operates are putting behind brands that have been in the market between 15 and 40 years (N+1, C.W. Downer & Co., Swiss Capital, Daruma, Dinamia).

This is another critical step in the firm's goal to become a global financial services institution specialized in the mid-market segment. ALANTRA's 57 partners and 345 professionals operate from 25 global offices.

Frankfurt/Main / Madrid– The partners of N+1 have decided to adopt a new common brand: ALANTRA. This new brand responds to the new reality of the group, a truly global player with over 345 professionals in 19 countries. It also responds to the principle "one firm, one brand", by which the different partnerships of the group will be adopting a common brand from now on.

Santiago Eguidazu, Executive Chairman of ALANTRA, said: "Adopting ALANTRA as our new brand is the best way to express our will to enter a new era. To have a unified name means to become a unified group. It also means establishing a new project among the partners of the 19 countries and different business areas in which we operate."

Wolfram Schmerl, Managing Partner of ALANTRA in Germany added: "In 2013 we successfully laid the foundation of the Frankfurt office with eight professionals focusing on M&A and Debt Advisory in Germany. Since then we have successfully advised on 45 transactions with a total transaction volume in excess of €5Bn. After the merger with C.W. Downer & Co. we now have a team of 30 professionals that are part of a global and integrated investment bank with a focus on the mid-market and strong sector specialization. ALANTRA represents a unique, independent, publicly listed partnership offering M&A and Debt Advisory services for our clients in Germany, in particular with an emphasis on cross-border transactions."

ALANTRA starts this new phase with the aim of becoming a unique partner for corporates, family-owned companies and financial investors active in the mid-market, a segment its partners have been serving for over 30 years. In investment banking, where ALANTRA has completed 368 transactions since 2013, the company offers a full range of services in 13 highly specialized industry sectors. The most noteworthy transactions advised in 2016 year-to-date include the following (client in italics): the sale of a 25% stake of Spanish Roca in German Duravit, the acquisition of Kimble Chase by the German DURAN Group, the sale of the industrial filtration activities for the MAHLE Group to the US Filtration Group Corporation, the acquisition by US private equity firm Lindsay Goldberg of Austrian Schur Flexibles Group, the CHF 511Mn recommended public purchase and exchange offer by AFG of Looser Holding (both Swiss based), the sale of Italian La Fortezza to Swedish listed group ITAB for €105Mn, and the €42Bn public tender offer to Swiss Syngenta from ChemChina.

In Asset Management, ALANTRA manages over €3.2Bn in assets. In this business, the company serves more than 80 institutional clients and its wealth management team advises over 450 high-net-worth individuals.

ALANTRA is a listed company built on a partnership model. As such, it combines solid corporate governance tools with flexibility, autonomy and responsibility which define our partnership. This model has allowed us to create a unique culture which nourishes entrepreneurial spirit, strong alignment of interests amongst all stakeholders and a long-term vision.