Five reasons why UK food and beverage businesses get rave reviews
---
Date 9 February 2020
Type Investment Banking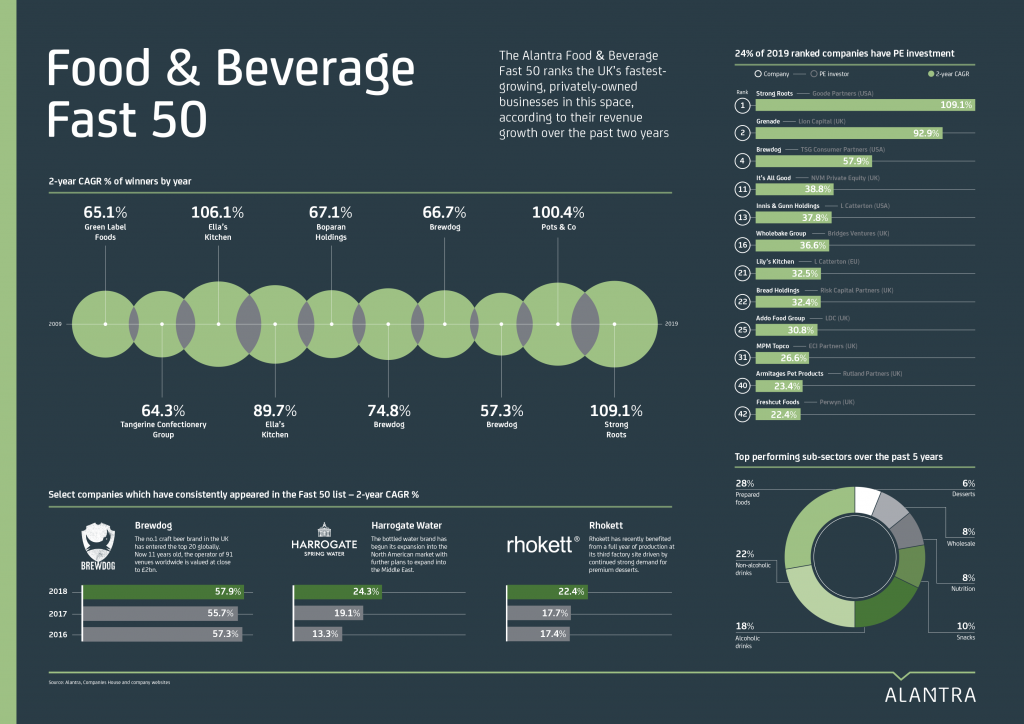 The UK's leading food and beverage companies are growing more quickly than ever, facing down challenging headwinds to attract increasing investment. Last year's Fast 50 ranking revealed a sector brimming with innovation and increasingly attracting customer and investor interest.
Alantra's Food & Beverage Fast 50, first published in 2009, ranks the UK's fastest-growing, privately-owned food and beverage businesses by their revenue growth over the previous two years – and shines a light on some of the country's biggest success stories. While the trading environment has become more difficult amid a slowing economy and increased uncertainty, these companies have continued to increase their sales at double-digit pace – or even faster.
With previous stars of the Food & Beverage Fast 50 ranking including high-profile businesses such as Tyrrells Crisps and Ella's Kitchen, a place on the list is highly sought after. Last year's constituents have had to achieve growth rates of almost 20% to make it into the ranking.
Here are just five indicators that underline how well the leading lights of UK food and beverage are performing.
#1 Seats at the table are getting harder to secure
Back in 2009, a business hoping to appear the first Food & Beverage Fast 50 ranking would have had to be able to show compound annual growth of at least 13.3% over the previous two years to make the cut. By 2018, the minimum was 16.9% and in 2019's ranking, the 50th placed company managed 19.8%.
In other words, the bar has continued to rise: even the top-performing food and beverage companies are having to grow even more quickly to retain their pre-eminence in the sector.
#2 The sector super-sizes growth
The growth posted by the top-performing UK food and beverage businesses is astonishing. Over a decade ago, in the first ever Food & Beverage Fast 50 ranking, Green Label Foods picked up top spot with a remarkable 65.1% of annualised growth over the previous two years. Last year, Strong Roots, which finished first, delivered 109.1%. In fact, in 2019, Green Label would only have managed fourth place on its showing from back in 2009.
Growth hasn't been linear. Ella's Kitchen posted treble-digit growth as long ago as 2012 to top the ranking, while some subsequent winners haven't matched that. But in each of the past two years, the number one company in the Food & Beverage Fast 50 has delivered annualised growth of more than 100%. The sector is on an uptrend.
#3 Private equity's appetite grows
The allure of the UK's food and beverage sector is international, with private equity funds from around the globe zeroing in on targets in the sector. No fewer than 12 of last year's Food & Beverage Fast 50 constituents have already attracted private equity investment.
These include both Strong Roots and Grenade, the top two performers in 2019's rankings, who have taken on funding from, respectively, Goode Partners of the US and the UK's Lion Partners. As the sector's performance continues to impress, there are likely to be further deals in the months and years ahead.
#4 The top performers prove their hunger and ambition
Many of the UK's leading food and beverage companies appear in Alantra's rankings over and again. Their consistently outstanding performances underline the resilience and quality of the sector.
Take Brewdog, now the UK's leading craft beer brand. It topped the rankings in the 2015 Food & Beverage Fast 50 with two-year annualised growth of 74.8% – and then repeated the trick a year later, posting growth of 66.7%. Brewdog has subsequently appeared in each of the 2017, 2018 and 2019 rankings, posting growth figures above 55% on each occasion.
Harrogate Spring Water's track record is similarly impressive. It has appeared in each of the past three Food & Beverage Fast 50 rankings, posting a higher annualised growth rate in each successive year. Rhokett, the indulgent desserts company, boasts the same achievement.
#5 Food and beverage offers a diverse menu of opportunities
One of the most attractive features of the UK's food and beverage sector is the variety it offers. In last year's ranking we saw remarkable growth from an array of businesses including prepared foods (13), nutrition and supplements (5), non-alcoholics drinks (5), manufacturers of alcoholic drinks (5) and snacks firms (4), as well as representatives from a number of other niches.
This diversity continues to increase, with themes ranging from the growth of veganism to the increasing popularity of home-delivery recipe boxes, and from wellbeing to high-end pet food all supporting growing businesses.