Exceptional first quarter for Alantra in France, #4 M&A advisor according to Mergermarket and 2019 Finance Gold Prize winner
---
Date 7 May 2019
Type Investment Banking
Alantra, the global mid-market investment banking and asset management specialist, confirms its leading position in France on this segment since the opening of its Paris office in 2015. The first months of 2019 have confirmed Alantra's strong momentum: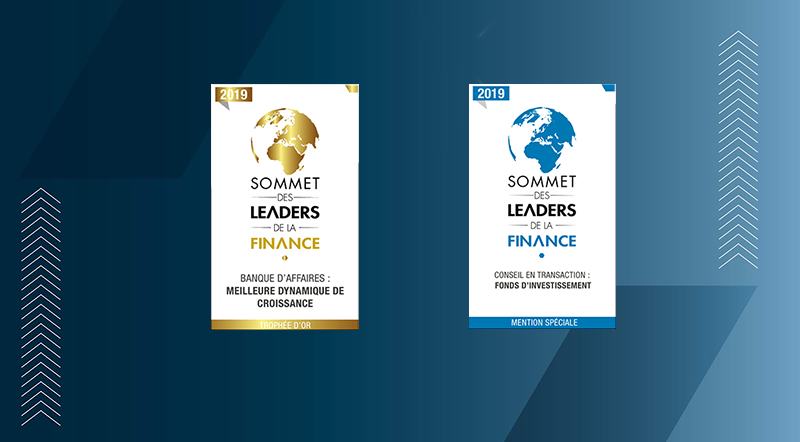 4th independent M&A advisory bank in France in terms of number of transactions (8) – Mergermarket ranking Q1 2019
2019 Gold Prize winner in the "Investment banking: best growth dynamic" category – Finance Leaders League
2019 Honors in the "Transaction Advice: Investment Funds" category – Finance Leaders League
As a reminder, Alantra France had already received the 2018 M&A Advisory Award in the Smid (small and midmarket) category organized by Private Equity Magazine.
A leading investment bank in the French mid-market
In the first quarter of 2019, Alantra's Paris office completed 8 M&A transactions in France for a total amount of approximately €700 million, and 11 since the beginning of the year for a total amount of nearly €1 billion. This dynamic growth confirms a virtuous trend after a strong activity in 2018. Last year, Alantra strengthened its position as a leading investment bank in the French mid-market with 17 M&A transactions advised for a total of approximately €1.3 billion.
Beginning of 2019, Alantra advised Wilbur Curtis in its sale to the SEB group, the Castel group's takeover bid for Société des Brasseries de l'Ouest Africain, the sale of TDS group to the Bertot transport group, the acquisition of Omega group by Korian, Ardian for its acquisition of a majority stake in the aeronautical group Revima, the takeover bid for Five Arrows on Harvest and the acquisition of a stake minority in bee2link by Bridgepoint. These transactions mainly concerned companies valued between €50 million and €500 million, in line with the group's strategy, which positions itself as the leading independent player in the international mid-market. Almost half of the operations advised by the French team had an international component.
Alantra France now has 30 professionals dedicated to corporate advisory (mergers and acquisitions, stock market transactions, financing), including 8 Partners and Managing Directors.