Alantra strengthens its European Credit Portfolio Advisory team and announces new offices in China and Brazil
---
Date 25 May 2020
Type Corporate News
Madrid / London / Athens / Shanghai / Sao Paulo – Alantra today announced that it is expanding its Credit Portfolio Advisory ("CPA") team with the appointment of Marcus Evans and Christos Stefanidis, two experienced professionals who will join as Managing Directors in the UK and Greece respectively.
Marcus joined the Firm in London last week, where Alantra already has over 30 dedicated CPA professionals. Marcus is an experienced deals practitioner and in joining the CPA team will leverage his European banking and regulatory relationships, as well as his expertise in providing regulatory capital advice to banks, financial institutions and private equity investors. His insights and advice will in many cases develop into opportunities for Alantra to assist clients in deleveraging credit portfolios or non-core businesses sales, or in sourcing and optimizing capital. He brings over 19 years' experience to the role and was until recently an FS Deal Advisory partner at KPMG, where he led the firm's European FS Deals network and was a partner in its ECB Office.
Christos Stefanidis joined the Firm in April to strengthen Alantra's presence with banks and investors in the Hellenic region, where Alantra CPA already has over 10 dedicated professionals on the ground. Christos previously worked for 16 years at PwC as a Director in its Deals / Corporate Finance team, focusing on financial services transactions (including leading some of the largest NPL sales and credit servicer carve out transactions), with experience in the local market and across Central and Eastern Europe. He brings significant experience across financial services M&A sell/buy-side advisory, loan portfolio valuation/sell/buy side advisory and corporate debt restructuring. Christos will join Vasilis Kosmas (Partner) and Kyriacos Riris (Senior Advisor) in CPA Greece's leadership team.
New CPA offices in Brazil and China
As part of Alantra CPA's ongoing commitment to maintain its growth and to support its client base, the Firm is pleased to announce it has increased its global footprint by establishing dedicated CPA offices in both Latin America and Asia.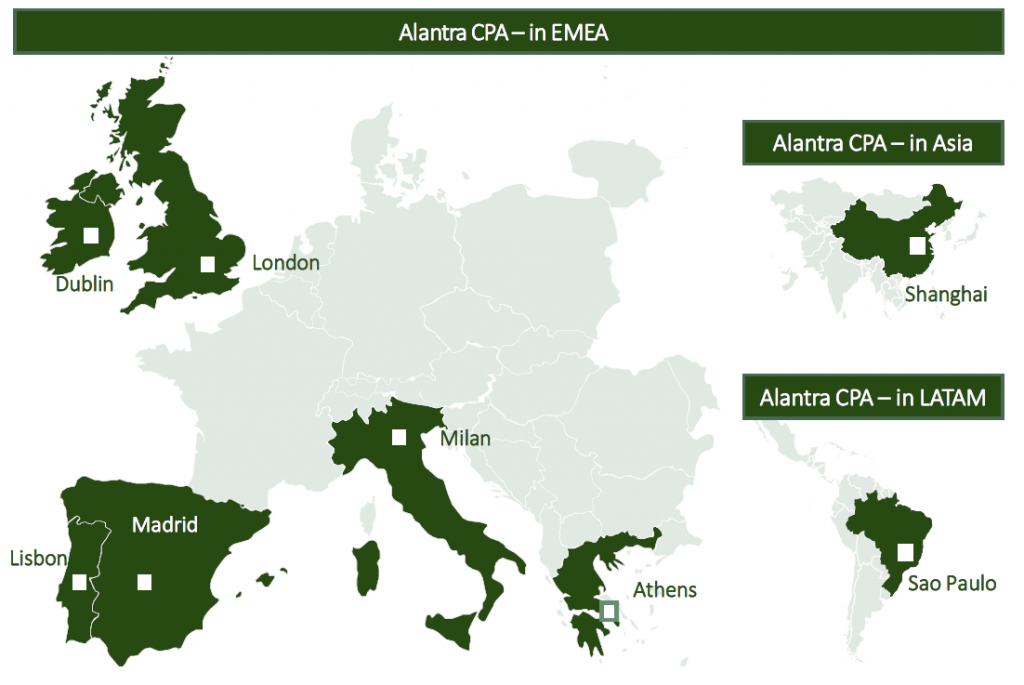 Alantra CPA in Latin America comprises two full-time senior advisors and a target size of 5 team members in 2020. The team provide services to clients across Latin America, leveraging both our in-country presence and experience, and our access to Alantra CPA's international investor base. The Latin American operations are based in Sao Paulo.
Alantra CPA in China consists of 2 professionals based in Shanghai and is already recognized as one of the leading advisors in the market. The team provide a range of banking advisory services to financial institutions in China. Our decision to establish an Alantra CPA presence in China, and to support the Chinese market, was primarily to help international investors to understand and access the Chinese distressed debt and non-performing loan market.
Joel Grau, CEO of Alantra's CPA business, said: "Our expansion comes at a pivotal time for banks, non-bank lenders and credit investors across the globe. The onset of Covid-19 will exacerbate and accelerate profound changes for our clients – regulatory changes regarding NPLs and capital, business model change, digitalization, the search for efficient funding and a focus on loan book quality and balance sheet optimization. Alantra CPA's platform can now provide solutions to clients, globally, that span each of these themes. Uniquely, we have the experience, the technical firepower, the technology, the scale and the single global team to advise our clients through these unprecedented times"