Alantra ranks as No.1 independent advisor in EMEA and No.5 in the US in H1, according to Dealogic
---
Date 10 July 2017
Type Investment Banking
Alantra, the global mid-market investment banking and asset management specialist, ranks as first EMEA independent advisor in H1 and fifth in the US, according to Dealogic.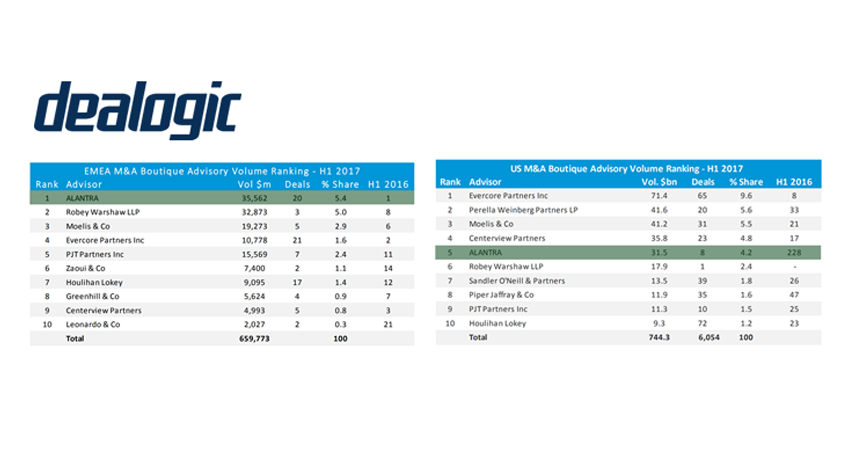 Year to date, Alantra has advised in 73 transactions globally (+40.4% vs. H1 2016), including 47 in M&A (c.50% cross-border), 12 in capital markets, 9 in portfolio advisory, three in debt advisory and two in strategic advisory. Noteworthy transactions in this period include (client in italics): the sale of Q-Park to KKR Infrastructure for c. €3bn, Mediahuis and VP Exploitatie public takeover for Telegraaf Media Group ( €280mn), Pachá's sale to Trilantic Europe (c. €300mn), Johnson & Johnson's public takeover for Actelion (Fairness opinion providers – €30bn) and the Oaktree's investment in a luxury cruise business with The Ritz-Carlton.

In a recent report also published by Dealogic, the financial markets platform remarked the growing role of independent firms among global advisors, especially on transactions with a value over 1 billion dollars, leveraging on "their niche expertise, independent advice, fewer conflicts of interest, and greater discretion without cross-selling other products". In that report, Alantra was #6 independent advisor globally.