Alantra Private Equity awarded with the Best Large Market Deal of the year in Spain
---
Date 9 July 2018
Type Alternative Asset Management
Alantra Private Equity and Arta Capital were awarded with the Best M&A Deal of the year at the 11th edition of the Spanish Private Equity awards organized by the Spanish Venture Capital & Private Equity Association (ASCRI, for its acronym in Spanish), Deloitte and IESE Business School, for the sale of Berlys (Panasa) to Ardian multiplying the investment by 3.3x.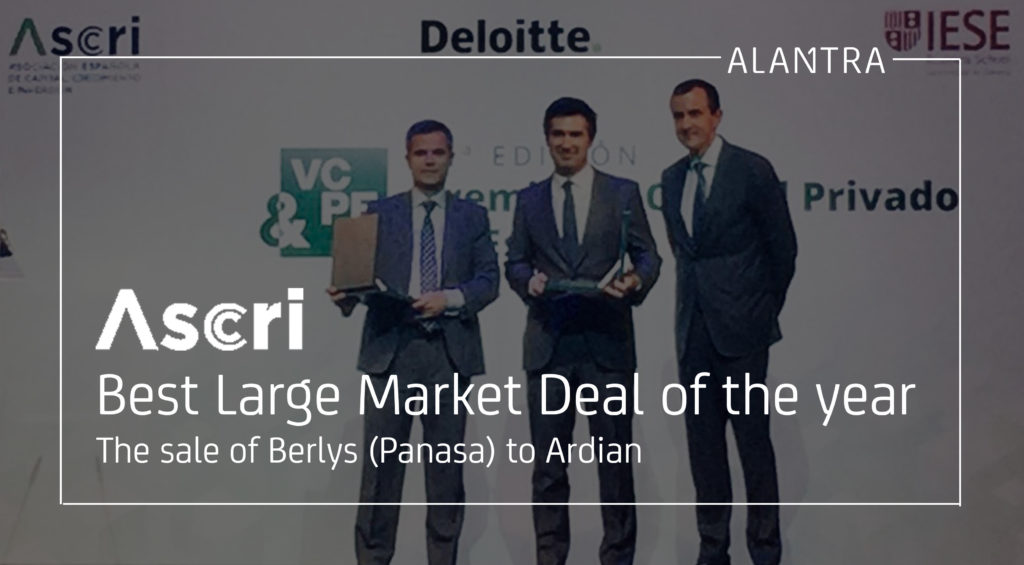 The awards were presented on July 4 in Florida Retiro (Madrid) and confirm the high contribution of the Venture Capital and Private Equity sector to the dynamization of Spanish SMEs. Around 200 professionals from the Venture Capital and Private Equity industry, as well as the banking and academic sectors, attended the event.

The funds Alantra Private Equity and Artá Capital were Berly's controlling shareholders from 2011 to 2017 and formed a Alantrafor the group development, consolidating its position as a leading and profitable firm within the industry. This was achieved by implementing an outstanding investment plan focused on new production lines, the execution of operational improvements in all areas, the reinforcement of the management team and the transition from a family company with a decentralized culture to an unified organization focused on maximizing profits.

With an investment of over €100mn the investment group led by Alantra Private Equity generated total gains (including dividends) of €283mn, which represent 3.3x the initial investment and an IRR above 21%.

Berlys merged with Bellsolà after being acquired in 2017 by Ardian, one of the largest private equity firms in Europe, in order to create a group with a strengthened commercial offering and a broader reach. The Spanish companies specialized in the bread and deep-frozen bakery sector formed MonBake, which was founded with a turnover of about €300mn, a staff of about 1700 professionals and a network of eleven factories in Spain. Both Alantra Private Equity and Artá Capital have co-invested alongside Ardian in MonBake.