Alantra posts an ordinary net profit of €16.9 million (+51.6%) in the first nine months of the year
---
Date 27 October 2016
Type Financial Results
Positive evolution of the recurrent business and strong growth in ordinary net profit. The ordinary net profit reached €16.9mn in the first nine months of 2016, a 51.6% increase versus the same period of 2015.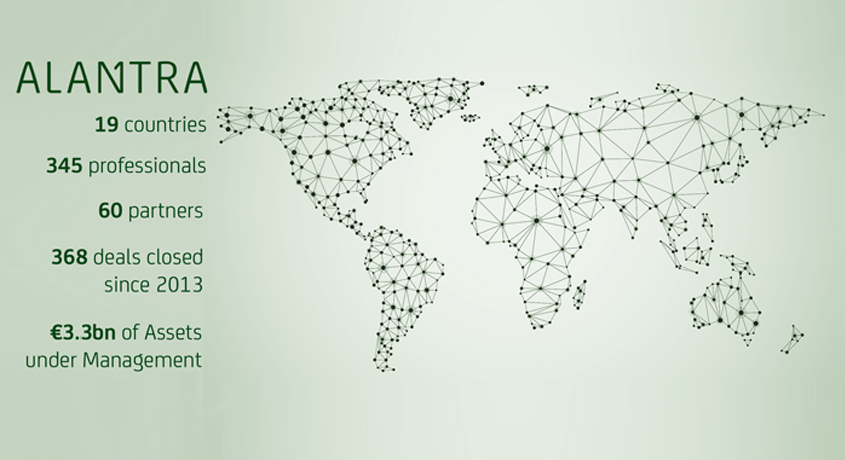 The sale of the group's 26% stake in High Tech Hoteles leaves €9mn after transaction expenses in Alantra's net profit.

Nine-month revenue was 4.3% higher year-on-year at €47mn. Investment banking revenues grew by 19%, while asset management revenues decreased by 22.7% due to the existence of €5.5mn of extraordinary revenues in 2015. However, the recurrent management fees have increased by 12.3% versus last year

The Group maintains a strong balance sheet. At the September close, Alantra had €178.6mn of shareholder's equity attributable to the parent and cash of €76.6mn.

A renewed project. On September 26, the Group announced the adoption of a new name: ALANTRA. This new brand responds to the principle "one firm, one brand", by which the different partnerships of the group adopted a common brand that reflects its new reality: a truly global player with over 345 professionals in 19 countries.

Business volumes year-to-date:

So far this year, the investment banking division, with teams in 19 countries, has advised on 81 transactions (53% cross-border): 59 M&A deals (66% sell sides), 13 equity capital markets transactions, three debt capital markets transactions (aggregated value of €103mn) and three fairness opinions ( €45.1bn).

In August, Alantra announced the opening of an office in Stockholm in order to enter the Nordics market. Jonas Bauréus, who has a long established track record in the region, has joined Alantra as Managing Partner of the office and will work closely with Alantra's German team, which has been quite active in Norway and Sweden over the past several years.

In asset management, it is worth highlighting the successful final closing of the private debt fund, reaching a total €140mn in commitments. Alantra's has been the most active private debt fund in Spain by number of transactions over the last 12 months and currently has invested a 52% of its capacities.

EQMC Fund, meanwhile, has obtained an 18.4% return year-to-date and a net annualized return of 25.6% over the last 5 years. This performance has driven the Fund to consistently rank in the Top 1% percentile across European open ended funds according to Bloomberg in 2016, in the last 5-year period and since 2010. Also, the EQMC Fund has recently been the top event driven fund globally in the event driven category, according to Barclay Hedge.

At the September close, the Group had c. €3.3bn of assets under management.