Alantra PE wins Private Equity Exchange's Best Spanish LBO Fund Award
---
Date 22 November 2018
Type Alternative Asset Management
Alantra's Private Equity division ("Alantra PE") has won the Best Spanish LBO Fund Award during the 9th edition of the Private Equity Exchange Awards, which were celebrated in Paris on November 21st. The jury was made up of more than 80 high-profile experts, including Limited Partners and Asset Managers, from across the world.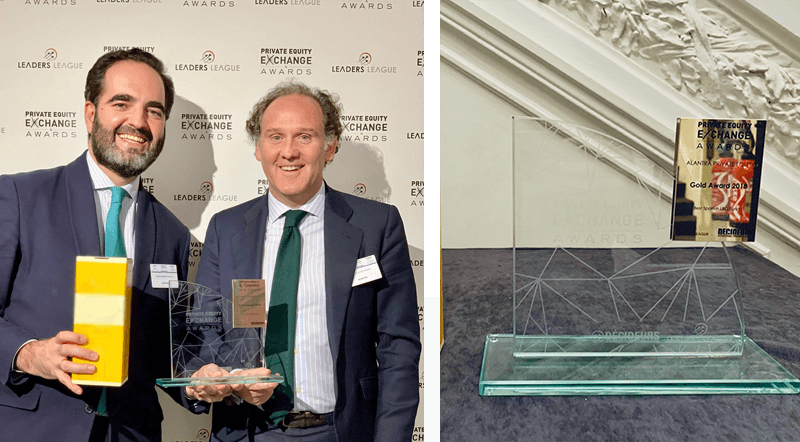 This award comes after a very successful year for Alantra PE. Last month the firm announced the transfer of the remaining portfolio of Alantra Private Equity Fund II to a new secondary vehicle participated by Partners Group and other Alantra PEF II investors. With this deal, Alantra PEF II consolidated the successful track-record of Alantra PEF II, which delivered a solid 2.0x return to its investors.

The award also consolidates Alantra PE's recognition as one of the leading private equity firms in Iberia. In little over 12 months, Alantra PE has completed six investments for its latest fund, Alantra PEF III. The Fund, one of the largest raised in Spain since the beginning of the crisis ( €450Mn), is already around 50% invested.

Alantra PEF III's portfolio includes MD Moldes (specialized plastic moulds and components manufacturer for automotive industry), Monbake (frozen bread and bakery manufacturer), Unión Martin (seafood producer specialized in cephalopods), ROQ (vertically integrated manufacturer of machinery for the textile printing industry), Hiperbaric (manufacturer of high pressure processing equipment for the food industry) and Ingenium (provider of technology platforms for Mobile Virtual Network Operators globally).

Additionally, a few months ago Alantra PE was awarded with the Best Large Market Deal of the year by Ascri, Deloitte and IESE, for the sale of Berlys (Panasa) to Ardian, which generated a 3.3x return to investors.