Alantra launches new website
---
Date 13 January 2020
Type Corporate News
The Firm takes a new step into cultural and digital transformation with a website that boosts digital interaction with its clients, investors and talent
As our business adapts to an increasingly digital landscape, the new site demonstrates our commitment to being an innovative, transparent, and entrepreneurial firm:
Alantra.com has been designed to offer the ultimate user-friendly experience with intuitive navigation and modern functionality, stepping away from a purely menu-driven site towards a flexible and interest-based navigation.
Rapid response functionality has been developed, allowing the site to be compatible with all browsers and mobile devices and offering new functionality such as a renewed and more powerful search tool
The site offers the possibility of getting to know Alantra's people, offering multiple touch points to meet the people behind a deal or an investment, by learning more about their experiences in testimonials and biographies, and through a new library of images of Alantra's people across the globe.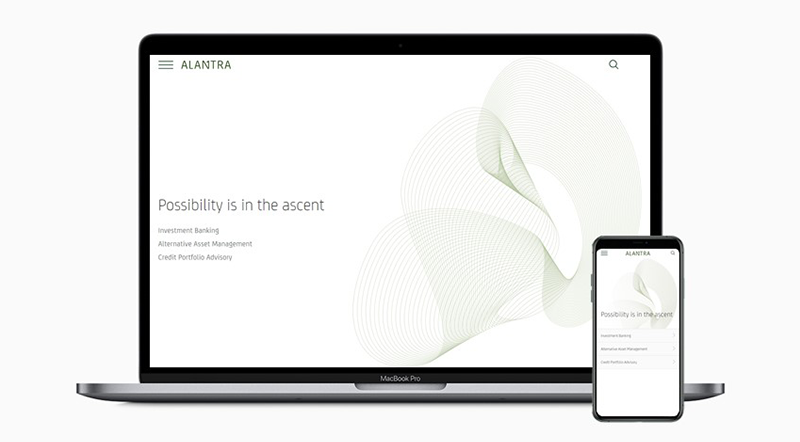 The new website will embrace a new narrative for the ethos of the Firm, including the Company claim: Possibility is in the ascent. Santiago Eguidazu, Executive Chairman of Alantra, said: "By stating that possibility is in the ascent we want to convey to our clients, people, and the markets in which we operate that the strength of Alantra is creating, innovating, growing and providing our clients with the best possible service. Possibility, in a firm like ours, evokes ideas being transformed into opportunities and businesses; delivering, performing and making things happen for the good of clients and investors; and the capacity to understand and develop our people."
The site was developed through the collaboration of different areas and countries of the Group, led by the Corporate Communications team, and the support of Skylark Creative (design, brand narrative, animation, and development) and Making Science (security and infrastructure).
Welcome to alantra.com