Alantra generated revenues of €26.6 million (+11.3%) and attributable net profit of €4.1 million (-39.6%) in the first quarter of 2018
---
Date 26 April 2018
Type Financial Results
Revenues increased by +11.3%, up to €26.6mn, driven by a +14.5% revenue growth in Investment Banking and a +6.6% increase in Asset Management. No performance fees were generated during the quarter.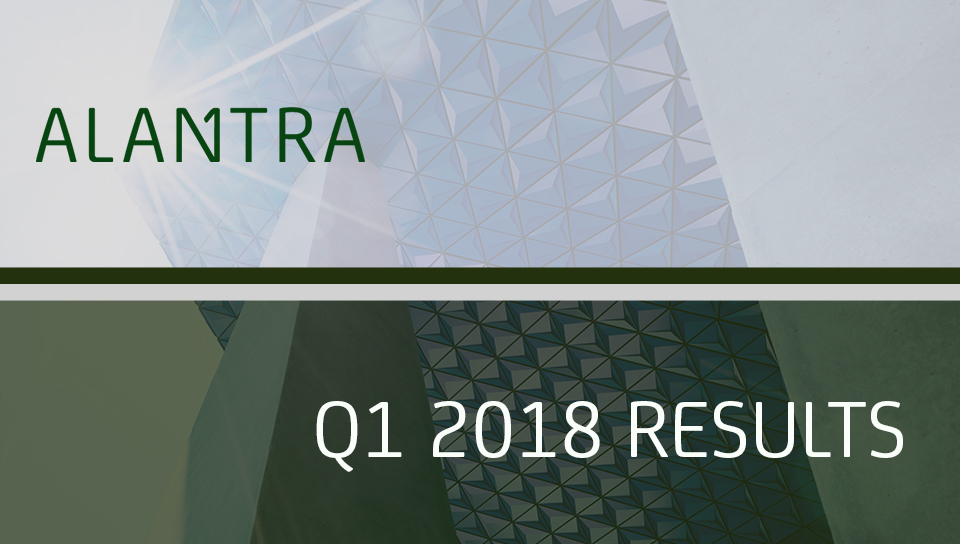 The Group generated €4.1mn of attributable net profit (vs. €6.7mn in Q1 2017), composed of:

A €4.0mn fee business profit (-21.1%), mainly driven by a slow start to the year in Investment Banking (Q1 is a traditionally a weak quarter in this industry), combined with a +18.8% increase of operating expenses, to €21.9mn. Most of this increase in expenses is related to the integration of Alantra's Corporate Finance division in the UK (now Alantra UK), the growth plan in the US and the expansion in products and services in Europe (by establishing new offices in Austria & CEE and in Belgium, and starting ECM services in Italy).

The absence of relevant changes in the investment business, which led to €0.1mn net profit (vs. €1.8mn in 2017).

Alantra's General Shareholders' Meeting, which took place yesterday, approved the additional distribution of 0.37 euros per share. Total shareholder remuneration corresponding to 2017 results amounted to 0.84 euros per share (+40% versus 2016 and +68% versus 2015), implying a payout of 100% and a dividend yield of 7.4%.[1]

In Asset Management, Alantra's Private Equity team made four acquisitions in 2018, reaching 41% of the investment capacity of its latest fund (Alantra PEF III).

Mixed performance of the active funds: QMC II and its successor fund QMC III obtained a +7.2% performance (accumulated compound annual return of 16.5% since 2013) and a +2.4% in Q1 2018, respectively. EQMC suffered a -4.5% loss in the same period (total compound annual return since 2010 at 18.4%).

31 deals advised by the Investment Banking division (+10.7%), out of which 16 were in M&A, seven in capital markets, four in strategic advisory, three in debt and one in portfolio advisory.