Alantra generated €25.1mn of net profit in 2016 (+42.2%)
---
Date 28 February 2017
Type Financial Results
Earnings growth despite higher costs due to the international expansion. In 2016, the Group continued to invest significantly in growing its business over the medium and long term, particularly on its international expansion, driving expenditure to €50.5mn (+41.2%). Nevertheless, the growth in revenue in the investment banking and asset management business to €90.2mn (+26.9%), coupled with good performance of the portfolio business, translated into net profit of €25.1mn (+42.2%).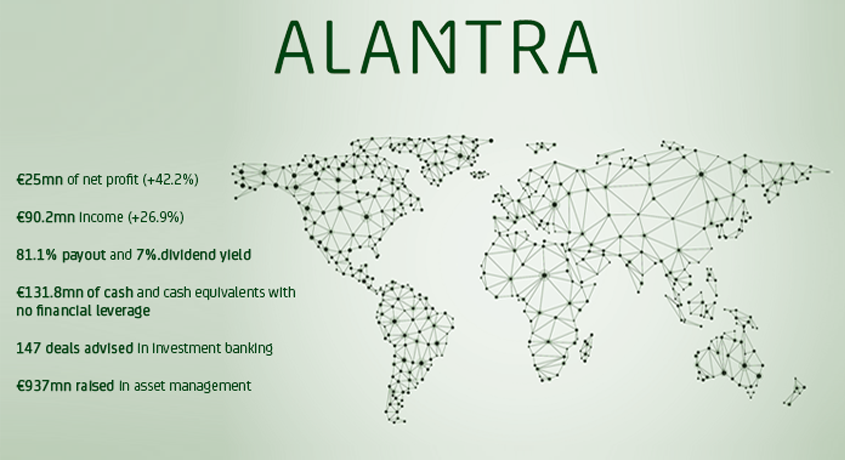 Additional distribution of €0.35 per share: 20% growth in shareholder remuneration. The Board of Directors will propose to the next Annual General Meeting the distribution of €0.35 per share, to be charged against the share premium account. Factoring in the €0.25 per share already paid out, 2016 shareholder remuneration will amount to €0.60 per share, implying a payout of 81.1% and a dividend yield of 7%.[1]

Addition of 12 new offices in Europe, the US, Latin America and Asia and buyback of SYZ's interest in the private banking business. In 2016, Alantra invested €43.2mn in a series of corporate transactions: the integration of C.W. Downer (to establish a foothold in the US), the purchase of 50% of Landmark (Latam), the roll-up of the minority shareholders in the German investment banking business and the buyback of Banque SYZ's interest in the Group's private banking business. In addition, new investment banking teams were added in Amsterdam, Athens, Beijing, Lisbon and Stockholm.

Solid capital structure to continue the growth strategy: €131.8mn of cash and cash equivalents with no financial leverage.

Strong growth in the number of deals advised on (#147) and €937mn raised in the asset management division.

The investment banking area advised 126 clients from 16 different countries on a total of 147 transactions (vs. 115 in 2015), an all-time Group record.

In addition, leveraging its experience advising on the restructuring of the Spanish financial system, the Group positioned itself as a leader in the distressed banking segment in Southern Europe. In 2016, Alantra advised on distressed banking transactions in Portugal, Spain, Italy and Cyprus.

The asset management division saw its assets under management rise to €3.49bn, having raised €937mn across its various products (vs. €287mn raised in 2015).

The EQMC Fund generated a 26.2% return in 2016, consolidating it the top-performing event driven fund globally in the last five and seven years according to Barclay Hedge.

[1] The yield is calculated using the average closing share price in January 2017, namely €8.60.