Alantra further ascends M&A League Tables and ranks #3 independent advisor in Europe
---
Date 25 September 2020
Type Corporate News
Madrid, London – Alantra, the global mid-market investment banking and asset management specialist, has ranked as #3 independent advisor by number of deals advised in the European league table for Q3 2020 and #4 in the global buyouts rank with 11 transactions advised with Private Equities YTD, according to Mergermarket. Year-on-Year, the Firm has progressed from #4 in the European tables. Alantra also ranked as #4 advisor in the UK by number of deals advised, which compares with #7 position in Q3 2019.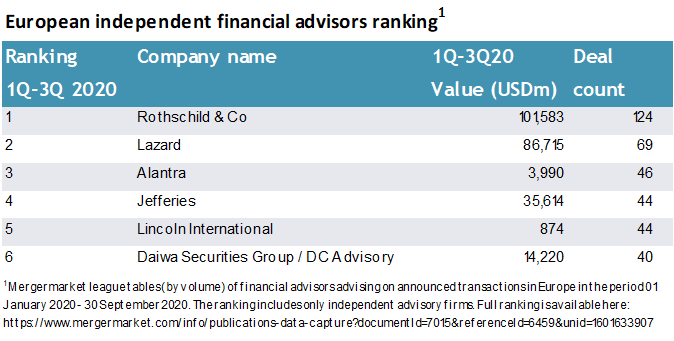 Alantra's rise in M&A rankings reflects the resilience of its specialized and diverse service offering in a more challenging deal making context. Year-to-date, Alantra has advised in 84 transactions, out of which 45 were M&A deals. Noteworthy transactions include (clients in italics): Six's €2.8bn takeover for Spain's Stock Exchange operator BME; Migros' sale of its Swiss luxury department store chain Globus to Signa and Central Group; Elkem's acquisition of China Polysil Chemicals; Embracer Group's €525 million acquisition of Saber Interactive; and Bain Capital's sale of T.M. Lewin to SCP Private Equity.
In 2019, Alantra's strong track record resulted in being named "European Corporate Finance House of the Year" at The Private Equity Awards, hosted by Real Deals. The criteria for winning the award, one of the most respected accolades in the European private equity industry, includes success in creating value for clients through outstanding deal execution and the provision of genuine market and sector insight, as well as the overall evolution of the firm and its strategy.