Alantra congratulates Branford Castle, Inc. on being awarded Private Equity Deal of the Year ($10m-$100m)
---
Date 17 September 2019
Type Investment Banking
Boston – Alantra, the independent global mid-market investment banking and asset management firm, extends congratulations to our client Branford Castle, Inc. on being awarded Private Equity Deal of the Year ($10m-$100m) for the sale of Canada Metal (Pacific) Ltd. (CMP) to Ironbridge Equity at the 11th Annual International M&A Awards hosted by the M&A Advisor. Alantra acted as the exclusive financial advisor to Branford Castle, Inc. on the transaction which closed in October 2018.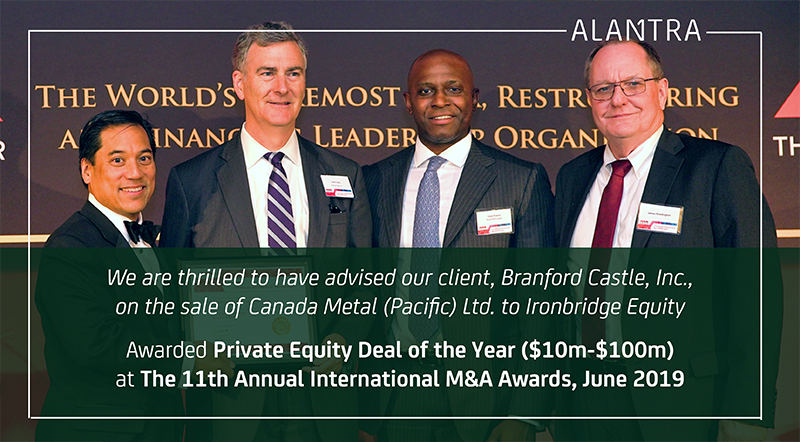 "We are thrilled that David Castle and the team at Branford Castle were recognized for the successful sale of CMP," said Wade Aust, Managing Director with Alantra. "It was important to Branford Castle and the management team to find a new partner to support the continued growth of CMP through organic expansion and acquisitions, and we believe the transaction with Ironbridge accomplished these objectives."
Greg Fanikos, Director with Alantra, added, "The sale of CMP was a complicated process, involving extensive diligence in six countries on four continents. The professionals at Branford Castle and CMP worked tirelessly towards the successful completion of this divestiture and we are pleased that their efforts have been acknowledged."
Canada Metal (Pacific) Ltd., headquartered in Vancouver, Canada, is a leading manufacturer and distributor of branded products serving the recreational marine, commercial marine and industrial markets. Founded in the early 1900s, the Company has leading global share (both OEM and aftermarket) in the market for cathodic protection anodes used to prevent corrosion on critical underwater components of pleasure-craft and commercial vessels. The Company also manufactures and distributes a range of complementary marine products which includes recreational dock products, anchors, chains, marine helm control devices, and stamped parts. CMP operates a total of six facilities in Canada, the United States, China, Australia and Italy, leveraging this network to drive low-cost manufacturing and efficient access to customers in major markets around the world.
Established in 2009, the 11th Annual International M&A Awards is the benchmark for excellence in International M&A dealmaking. The awards were presented at a black-tie Gala on Wednesday, June 5, 2019 at The New York Athletic Club in midtown Manhattan. Winners were selected by an independent judging panel of industry experts who evaluated nominations representing hundreds of companies around the world — a wide and varied group with deals valued at $10 million to tens of billions.